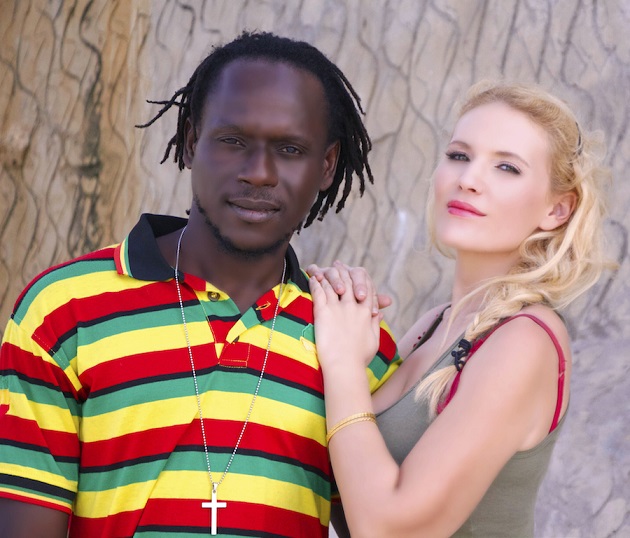 Artist:JoeHero & Nina
Genre: Reggae
Sounds Like: Peter Tosh, Alaine, Morgan Heritage
Location: Berlin, Germany
Bio: JoeHero & Nina is an African-European duo formed in 2013. Prior to singing as a duo JoeHero and Nina were the two main lead singers for the Gambian Reggae Band 'The Roots Bongo Band'. After releasing an album with the band and touring the Gambia through 2012 and 2013, JoeHero and Nina parted from the band in pursuit of a solo career as a duo. Together they play a unique blend of World Music by combining what they call 'Roots Pop Reggae' with Acoustic Singer-Songwriter elements and the occasional Dancehall beat.
JoeHero is a self-taught musician from The Gambia; he plays the guitar and is the male vocalist for the duo. Nina Beste is a singer-songwriter originally from Germany, she joined the band in 2009 and after completion of her University studies in London moved to The Gambia to play full time with them.
During their time in Gambia the duo hosted the radio program 'Around The World With Nina' on Paradise FM, and they appeared on several local TV Shows such as 'Fatu Show', 'Banjul Night Live', 'Breakfast TV' and 'Star Line' on the local TV channel GRTS. They also played several charity concerts for local and international Charity Organisations such as Pen & Paper.
In March 2014 the duo moved to Germany, and is currently living in Berlin. They have just released their reality documentary of their time in The Gambia, which can be viewed on their YouTube channel.
In April 2014 they sold their rebel track 'Ganja Fi Legal' to the British Label 'West Basement Records', which is releasing the original and a remix in May.
The duo has formed a new Reggae band in Berlin, with JoeHero on the guitar and main vocals, Nina as main vocals and African Maracas, Ante Burazer on the drums, Raina Gothig playing the bass and Marius Hübner on the keyboard. The band is at present recording new material and playing live gigs in the city.
Get to Know: Official site | Facebook | Twitter | YouTube
Popular Posts: