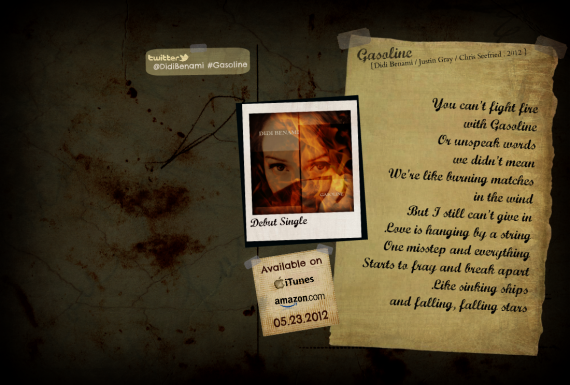 Indie singer songwriter Didi Benami softly released her debut single "Gasoline" last May 23rd and took on to bloggers and the Social Media like Twitter and Facebook to promote the new track.
Fans are raving about it- yes, it is getting its well-deserved attention but it needs more exposure!! Radios have yet to pick it up. Sadly, it is an almost impossibility if you aren't on a label.
We believe in this song. We are a fan of Didi's and we'd like you our dear readers to discover this talent if you haven't already! Didi's voice is velvety like silk. The yearning in her voice makes you feel warm all over. This track will blend beautifully in your playlist and you're bound to hit "repeat" when you hear it played.

Check out the "Gasoline" page on Viinyl. It's rad!
This song SHOULD be heard on the radio, if not –bring it to the people. So hear ye, grab a copy and you will not be disappointed… Think about it, this $0.99 cent track is cheaper than your Starbucks coffee fix! 🙂
From the PR:
Gasoline is a collaboration with prolific singer/songwriters Justin Gray and Chris Seefried who both also produced the song. The recording is mastered by Grammy award winning mastering engineer Brad Blackwood of Euphonic Masters.
To learn more about Didi: visit these pages  Official site | Twitter | Facebook | Soundcloud | Reverbnation | YouTube | IMDB | MySpace | Tumblr
About Justin Gray | About Chris Seefried | About Brad Blackwood
Popular Posts: